Hydro Rain Lighting
HRC-100L-60W (06700)
The LED Landscape Lighting Conroller by Hydro-Rain brings you convenience and control in a small case. You can independently control up to three separate sections of your landscape lighting. In addition, it give you the ability to activate those zones with a photocell, motion-sensor, or with a start time. Don't want to waste energy all night? You can turn off the zones with the timer, even if they were activated with the photo-cell. With more features, pound for pound, than any competitor, the LED Lighting Controller is sure to please your clients without upsetting the budget.
Features and Benefits
60 Watt transformer
Three independent zones
Works best with LED lights
You can use the photocell to activate the lights to avoid reprogramming the start time, but save energy by setting a stop time
Motion-sensor control for all three zones to enhance safety and security of the property(sold separately)
Easy-to-set
Swing panel for easy wiring access
---
HRC-100L-MS (06730)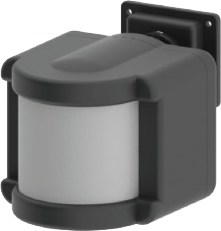 The Lighting Motion Sensor by Hydro-Rain brings the added convenience of lighting up a dark path, stairs or other area where light is needed, when it is needed. It can also serve as a deterrent for prowlers.
Features and Benefits
Use to light pathways or other dark areas of your yard when motion is detected
Swivel head features a locking screw to keep the sensor in place
Wiring included
Stake included
Works with LED Lighting Controller by Hydro-Rain
---
HR-BKP-LED-3W (06701)
HR-BRP-LED-3W (06702)
LED Landscape Pathlight - 3W
Matte Black Finish
LED Landscape Pathlight - 3W
Textured Bronze Finish

Features and Benefits

Mounting Stake Included
Expected life of 50,000 Hours
5 Year Warranty
Material: Aluminum

Features and Benefits

Mounting Stake Included
Expected Life of 50,000 Hours
5 Year Warranty
Material: Aluminum

HRL-BRP1-LED-3W (06703)
HR-BKS-LED-3W (06721)
LED Landscape Pathlight 3W
Textured Bronze Finish
LED Landscape Spotlight-3W Matte Black Finish

Features and Benefits

Mounting Stake Included
Expected Life of 50,000 Hours
5 Year Warranty
Material: Aluminum

Features and Benefits

Mounting Stake
Expected Lif of 50,000 Hours
5 Year Warranty
Material: Aluminum

HRS-BRS-LED-3W (06722)
HRS-BRS-LED-3W (06723)
LED Landscape Spotlight-3W Textured Bronze Finish

om

Features and Benefits

Mounting Stake Included
Expected Life of 50,000 Hours
5 Year Warranty
Material: Aluminum

Features and Benefits

Mounting Stake Included
Expected Life of 50,000 Hours
5 Year Warranty
Material: Aluminum