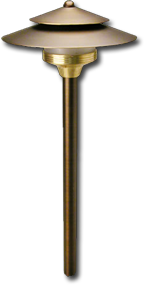 Unique Lighting Systems
Images & Text courtesy of Unique Lighting Systemsr™
Unique Lighting Systems has distinguished itself as "the innovators" of outdoor low voltage landscape lighting. We are revolutionizing the low voltage lighting industry and as proof of this commitment Unique has developed the first and only lifetime guaranteed lighting system that allows you to properly install a well-designed lighting system.
This system includes the multi-matic transformer, hub wiring method and solid brass lifetime guaranteed fixtures or fifteen year warranty copper fixtures. Join us as we take the landscape lighting industry a level above!
Unique is the ONLY manufacturer that will warranty the fixtures (Odyssey and Signature Series), the wiring connections, and the transformer, essentially the entire system, for life! This one of a kind limited lifetime warranty protects homeowners not only against rust and corrosion of the fixtures, but also the sockets, all related hardware, wire connections and the solid brass construction. Working harder and smarter, we continue to manufacture the most innovative and longest lasting landscape lighting products.